Replacing AC fans with EC fans allows optimization of cooling systems for ultimate energy efficiency, potentially reducing energy usage by up to 70%.
Upgrade the belt drive to EC fans in AHUs (EC Fan Grid).
Saving 70% of an Air Handling units motor energy; Just by changing the fan and motor.
ACAD has a experience with FanGrid upgrades old belt drive fans with energy efficient direct drive EC fans, creating redundancy and substantial energy savings.
This is replaced with a set of EC direct drive fans mounted on a newly installed bulkhead. you get the same air volume as before, but it is supplied using less energy. An added bonus is that the unit no longer needs belt maintenance, which saves costs elsewhere.
The EC fans you see here are from different unit, but better display the way in which they are installed. Any VSD's that are fitted to the old motor are no longer required, which saves a 2-3% in energy losses too.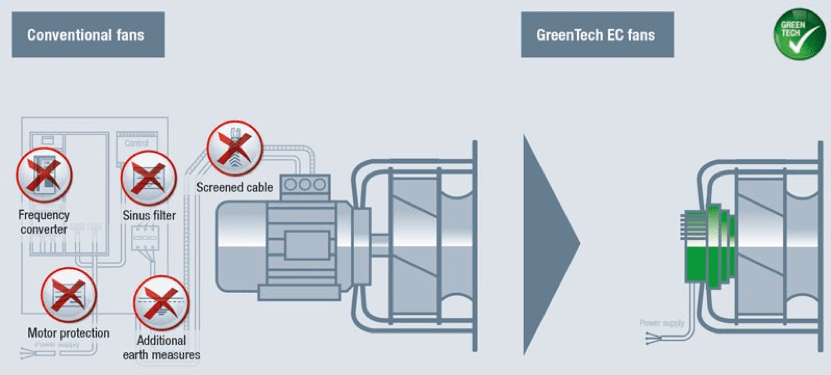 A FanGrid design gives increased reliability over old single fan system. This solution prevents whole system failure, as if one fan were to fail, the remaining fans increase their speed and can compensate for the loss and continue to deliver the air volume required. Due to their compact size, the units in a FanGrid can be replaced more easily. In addition, EC FanGrid solutions can be controlled more accurately, are quieter and reduce maintenance costs. In the long run it protects you against minor breakdowns and prevents an outage.

Up to 70% potential energy saving
Flexible installation solution
Variable speed control matched to load
Reduction in noise levels
Get in touch with us and we will arrange a free physical survey of your existing equipment to see what you currently use and what you would like to achieve. There is no cost involved for checking the feasibility of the project. Our wide experience of all types of systems means we can quickly give you advice on possible solution, including potential savings and payback period.
Stage 2: Estimated Saving
After our initial feedback, we will consider your needs in more detail and provide an estimate of the potential savings in energy consumption financial cost. We will also indicate the cost of fan installation and payback period.
Stage 3: Trial Installation
We have confidence in our estimates but do not expect you to accept them without question. Usually we will recommend an initial trial installation to confirm the figures
Following a successful trial installation, you will have all the information you need to implement a site-wide upgrade.